Well, what a year it has been! This year we have seen many teams and groups finally launching their rockets after delays, new altitude records broken and the odd hiccup along the way. Never the less 2016 has turned it on in the amateur rocket world :).
A few of my highlights.
The Launch of Vulcan 1
For me the big one of 2016 was finally seeing SEDS UCSD launch their Vulcan rocket, this rocket was powered by the groups 3D printed liquid-fueled engine and finally launched on May 21st. I originally supported the team with their Kickstarter campaign, so it was great to see them finally succeed with the launch, although recovery malfunctioned I think the team can still walk away having achieved a great deal. Good work guys and girls!
A New European Student and Amateur Altitude Record
2016 also saw the fall of the European student and amateur altitude record, previously held by Delft Aerospace Rocket Engineering students and their Stratos II+ rocket with an altitude of 21.5km. The record was broken by students at the University of Stuttgart with their HyEnD HEROS 3 rocket, which achieved an altitude of 32.3km. This was only after the team had launched an identical rocket HEROS 2, which unfortunately ran into telemetry problems which likely caused recovery issues, therefore, unable to be located. I hope in the summer they can find it, or what is left and get some data, who knows it may have reached a similar altitude!
ULA Interns Launch Worlds Largest Sport Rocket
This was just impressive, 50ft tall rocket, 1245lbs weight, 6600lbf thrust at liftoff! Always fun to watch this video over and over!
Copenhagen Suborbitals
CS had a pretty full on year, with continued testing of their BPM 5 rocket engine, which included gimbal testing to eventually move away from jet vanes and of course the big event of 2016, the launch of Nexo 1, which did not exactly go to plan.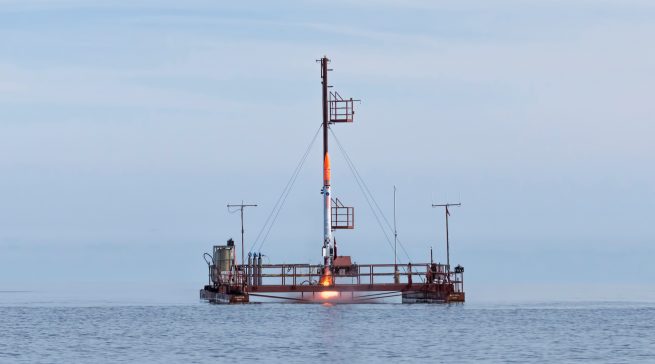 Unfortunately, GOX flow through the engine injector lowered the overall mass flow rate causing a fuel rich burn and lowered thrust, this had the snowball effect of not activating the recovery system and the rocket plummeted into the ocean after only reaching 1514m in altitude.
The team still soldiers on and 2017 should see the flight of Nexo 2 and hopefully some BPM 100 rocket engine news and hardware :).
PSAS 3D Printed Engine
Portland State Aerospace Society made big strides this year as they continue working towards sending a rocket 100km. The team designed and printed their first ever liquid fuelled rocket engine, running on ethanol and liquid oxygen the engine is designed to develop 500lbf of thrust. Hopefully, this will be test fired sometime in 2017, looking forward to it!
Remember to donate towards the teams crowdfunding campaign so we can all see this fire next year!!
BURPG Lotus engine testing with more to come
This year the students of Boston University Rocket Propulsion Group test fired their Lotus rocket engine, designed to power their Starscraper rocket to over 100km, this was another Kickstarter campaign that I supported. Unfortunately during testing the rocket engine over pressurized leading to the failure of the retaining ring holding in the inner chamber, allowing it to exit.
The team have since gone back to the drawing board and redeveloped the engine as Lotus Dev 2, increasing thrust from 1500lbf to 2500lbf and fixing the issues they had with the first version.
Engine testing is slated to begin early next year.
————————————————————————————-
There were so many more cool projects going on for 2016, I could go on and on, but to wrap things up I'd like to finish with the epic on board GoPro footage of the UP Aerospace SL-10 launch, which was released this year.
Happy holidays and see you all in 2017!